Apicoectomy (Microsurgery) in Brentwood, Los Angeles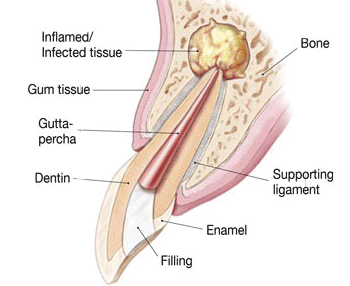 Root canal procedures are performed to save teeth with injured pulp or nerve tissues. Occasionally, this procedure may not be enough to resolve the problem and your endodontist may recommend minimally invasive root surgery. The most common surgical treatment is an apicoectomy or root-end resection. Your Endodontist often requires a more detailed X-ray or 3D CT scan to plan your procedure. They will get a Cone Beam CT scan to navigate through the proposed surgery before performing it with high accuracy under a surgical microscope.

Through a conservative incision in the gum tissue, the dentist exposes the affected area to remove inflamed tissues along with the damaged root tip. After proper irrigation and lavage, the endodontist will then carefully repair the root structure with biocompatible filling material and the area sutured. Occasionally the removed tissues will be sent to a laboratory for microscopic examination. Apicoectomy is mostly done with local anesthesia but you will be given an option for sedation or twilight anesthesia to maximize your comfort. Usually the sutures are removed within 4-7 days of the procedure. You may have discomfort and minor swelling after the procedure, and may be prescribed antibiotics and anti inflammatory medications. It is important that you take them as directed by your dentist.
What are the benefits of Endodontic Surgery?
Endodontic surgery is a minimally invasive procedure often done by a highly trained root canal specialist, using the most up to date technology and armamentarium. The following are some of the main benefits of apicoectomy:

1. It can help save the tooth longer by conservatively removing all infected tissue while reducing the need for further extensive restorative work.

2. It can definitively remove chronic and slow responding root infections and cysts, thereby eliminating pathology and discomfort.

Your Endodontist strives for excellence to keep you comfortable while predictably save your tooth as long as possible. If you have more questions, don't hesitate to ask!